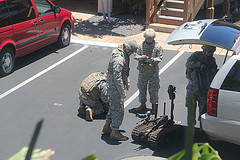 I'm glad we are on the winning side of spiritual war. In case you haven't noticed yet, spiritual battles spill over into the natural realm. The enemy of our souls tries to distract us from doing what God calls us to do. Sometimes it is ordinary distractions. Sometimes the spiritual forces of darkness try a little harder. Like sending a criminal with explosives on a high speed chase into our parking lot. Or hacking the eBible.org web site to insert illegal content and deliver a profane blast of spam emails. Or distracting us with sickness in the family. And that was just my last 10 days. So… let it be known to all of the hosts of Heaven and hell, I will keep following Father God, lifting up the Name of His Son, Jesus Christ, and walking in the power of the Holy Spirit. No weapon formed against us will prevail.
The servers hosting eBible.org and many other Bible sites are now running with higher capacity and higher security. Due to some ISP issues, the eBible.org public FTP server is currently down, but the content of ftp://eBible.org/pub/Scriptures/ is duplicated at https://Bible.cx/Scriptures/ and fully accessible, there.
Also, due to some software bugs and spam holes, those servers will no longer host mailing lists. My apologies to my friends in the affected ministries, but it is time to move on to more robust solutions, anyway, as I will be doing. My humble apologies to those who got unwanted email relayed from the desecrated servers during the time between the attack and the time it took me to lock it down and to remove some buggy mailing list software.
Now thanks be to God, who always leads us in triumph in Christ, and reveals through us the sweet aroma of his knowledge in every place.—2 Corinthians 2:14