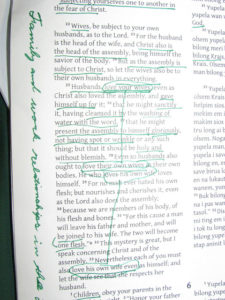 Counting Bibles is kind of like counting Israelites in the Old Testament. Sometimes God commanded a census be taken. Sometimes He specifically didn't want a census to be taken, and punished King David for doing so at the wrong time. There are some good reasons to count digital Bibles and some good reasons not to. I try to satisfy the needs represented by the reasons to count digital Bibles without crossing the line into the area where it would be bad.
Here are the best reasons to count digital Bibles:
To make sure that people are finding the Bibles we post for them.
To encourage the many people who are involved in translating and distributing Bibles.
To discover ways to improve Bible distribution.
To reassure financial partners that we are being good stewards of the funds entrusted to us for this purpose. They understandably want to make sure that their investment in the Kingdom of Heaven is doing some good.
Here are the best reasons to NOT count digital Bibles:
Encumbering digital Bibles with metric instrumentation is extra work and adds costs that are not directly related to Bible distribution.
Adding metric instrumentation limits the number of formats that can be used for Bible distribution, precluding the use of some very good standard electronic book and Bible study module formats.
Metric instrumentation usually assumes the presence of a full-time, cheap or free Internet connection, but most of the Bible translations I distribute are for people who live in areas with intermittent, slow, and very expensive Internet, if they have Internet access at all.
Metric instrumentation reporting back to home is inherently dangerous in places where anti-Christ powers of darkness commit physical violence against those who read and own Bibles. While some good computer security practices can mitigate some of the risk, the danger cannot be totally eliminated. Even encrypted messages reveal the nature of their purpose by the destination of those messages. And a data breach at the publisher could be fatal, even if the messages were securely delivered to the publisher.
Metric instrumentation of digital Bibles is creepy. Honestly, it is a form of spyware. I know of a couple of apps that do this, and I don't use them for my regular Bible reading, because I have some really good non-creepy alternatives.
Counting the exact number of digital Bibles in actual use at any one time is nearly impossible, because they can be created (copied) and destroyed (deleted) in ways that I couldn't see, even with metric instrumentation. How much more when the files are made to be easy to share with others, even without the use of the Internet, and when they don't have metric instrumentation?
Why go through the effort when we already know that God's Word will certainly do what He sent it to do? See Isaiah 55:11.
It seems vain to "brag" about Bible delivery statistics when my personal involvement is only a part of the whole process of translating and delivering the Holy Bible to people who need it.
Where is the balance point? I suppose that it would be different for different organizations involved in distributing digital Bibles. Some people aren't concerned with delivering Bibles to creative access countries or areas with expensive Internet, so they would choose differently than I would. For me, I think the optimum point is to count the translations that are posted, which I do regularly at eBible.org/Scriptures/scorecard.txt, and to glean some useful aggregate information from the web server logs.
Being the mathematically-trained and linguistically-trained engineer that I am, I find many different ways to look at the data when counting. I also find that counting myself is too tedious and impossibly time-consuming. Therefore, I have my computer do the hard work. One program that counts Bibles creates an output named scorecard.txt.
There are several terms in scorecard.txt that could use some definition:
languages: ways of speaking (or writing), like Mandarin Chinese, English, and Russian, such that speakers of different languages can't understand each other.
dialects: different varieties of the same language, such that people who speak different dialects of the same language can understand each other, sometimes with difficulty, like Texan English, Scottish English, and Indian English.
Bible translations: the Holy Bible written (or recorded) such that speakers of a given language can understand it. There can be multiple translations into the same language, like the New International Version, English Standard Version, and World English Bible. Most minority languages only have one translation, and often it is only the New Testament or another portion.
freely redistributable or open access: Bibles (or portions) that are either in the Public Domain (not copyrighted) or which are still covered by copyright but licensed under a Creative Commons or similar license that allows them to be shared freely. Sometimes that sharing is limited to noncommercial use, and sometimes it isn't, depending on the specific license chosen by the copyright owner.
limited sharing: Bibles that are covered by copyright, and for which the copyright owner has granted only limited and very specific permission for distribution, usually just online only. These Bibles are useless in areas where offline access is essential. Such limits are almost always motivated by money concerns.
As I write this, we just reached 700 freely redistributable translations. Those are the the ones that allow the greatest obedience to the Great Commission, and which are available on multiple web sites and in multiple formats. These are available in formats that are easy to download and share with others. This is awesome, to my way of thinking. I hope the number of freely redistributable Bible translations grows greatly.
There are also some Bible translations that are available via online-only APIs from the American Bible Society's BibleSearch and from Faith Comes by Hearing's Digital Bible Platform. Both of these APIs contain Bibles that duplicate those which we have that are freely redistributable. (Of course. We share them when we are allowed to legally.) If you eliminate the duplicates, it comes to a little over 1,000 Bible translations available at Bible.cloud/study, which pulls in not only our 751 locally-served Bible translations but the ones that the APIs have but we don't have locally.
For counting web traffic, I used to just rely on server logs plus common free programs to analyze the traffic. That yielded numbers of files, visits, and hits for each virtual server. It was a bit tedious to add these numbers up monthly, so I didn't always do it. It was also hard to explain the relationship between those numbers and the actual Bible distribution going on. Server logs aren't perfect, and usually get messed up when migrating web sites from one server to another, which happens from time to time. Still, it was an indication. Now, I have written a program (that I call logalyzer) that goes through our Bible web site server logs looking specifically for Bible file downloads and page views on Bible sites. Most page views on Bible sites are chapter views, but some are other things, like index pages, copyright/about pages, glossaries, etc. Note that some page views recorded are actually done by search engine bots as they index the site. These are actually welcome traffic, as they make it easier for people to find the Holy Bible in their language, even though those particular page views might not actually seen by a human. At the traffic volumes we see, search engine traffic is a reasonably small percentage of the total traffic. Anyway, this is where I'm getting Bible delivery statistics reported in our prayer letters, starting with the June 2016 count of 941,727 Bible downloads and 7,532,673 page views in our July 2016 prayer letter.
If that sounds impressive, please don't be impressed with me. Be impressed with God, who makes all of this possible, and who loves everyone in the world enough to make all of this possible to help reach them with His message of love and forgiveness. Glory be to God!