Michael Johnson provides free access to the Holy Bible in the languages people understand best, in the most useful formats. Lori is a teacher.
We are currently looking for more people to commit to supporting our ministry monthly so that we can expand our digital Bible distribution ministry. Please pray about what the Lord would have you do. If He prompts you to give, I promise you will not regret doing so. It is easy to set up automatic monthly donations through World Outreach Ministries or set up a recurring donation with your financial institution. Of course, one-time donations also help. It all adds up.
Read our newsletters and journal (blog) entries so you know how to pray for us.
Print and/or read our tri-fold brochure.
Sign up to receive our prayer letters by email using the form to the right.
Print out our prayer card and put it where you can see it and remember to pray for our ministry.
Jesus came to them and spoke to them, saying, "All authority has been given to me in heaven and on earth. Therefore go, and make disciples of all nations, baptizing them in the name of the Father and of the Son and of the Holy Spirit, teaching them to observe all things that I commanded you. Behold, I am with you always, even to the end of the age." Amen. — Matthew 28:18-20 (WEB)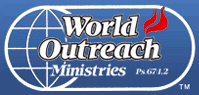 ---